Filtration
With more than one million filters produced every year, pinta industry has specialised in air and odour treatment for household appliances (vacuum cleaners, kitchen hoods, humidifiers…)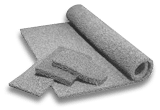 Our technology is based on cross-linked foams containing activated carbon. Depending on the porosity of the media and the type of carbon used, the required absorption efficiency and head loss can be obtained.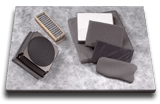 Thanks to our production tools and finishes developed, we are also able to provide full filters based on plastic housings or fabric sleeves.
Feel free to contact us for further information on our activated carbon filters.